Click on the article to read about the wedding.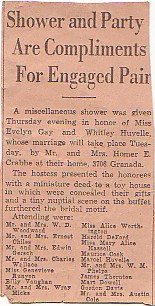 Transcription:

Shower and Party

Are Compliments

For Engaged Pair

____

    A miscellaneous shower was given Thursday evening in honor of Miss Evelyn Gay and Whitley Huvelle,    whose marriage will take place Tues- day, by Mr. and Mrs. Homer E.      Crabbe at their home, 3706 Granada.

    The hostess presented the honorees with a miniature deed to a toy house   in which were concealed their gifts    and a tiny nuptial scene on the buffet furthered the bridal motif.

    Attending were:

Mr. and Mrs. W. D.

  Woodard

Mr. and Mrs. Ernest

  Chiles

Mr. and Mrs. Edwin

  Gersch

Mr. and Mrs. Charles

  Wallace

Miss Genevieve

  Runyon

Billy Vaughan

Mr. and Mrs. Wray

  Hicks

Miss Alice Worth- 

  ington

Harold DeFord

Miss Mary Alice

  Hassell

Maurice Cook

Marcel Huvelle

Mr. and Mrs. W. M.

  Phelps

James Thornton

Mart Dowell

Gordon Davis

Mr. and Mrs. Austin

  Cole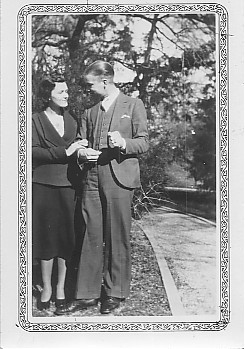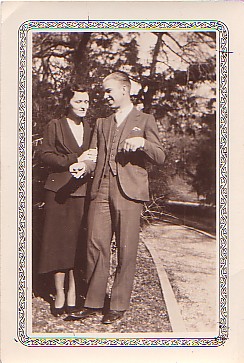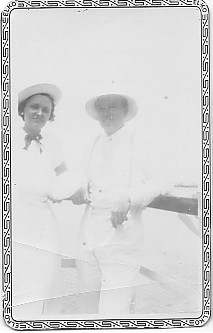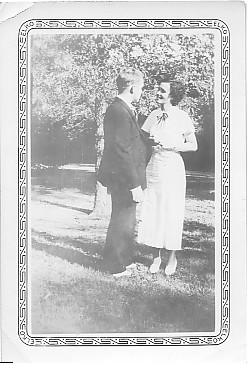 Typed on the back:

July 5, 1936

"Us"

(too much said)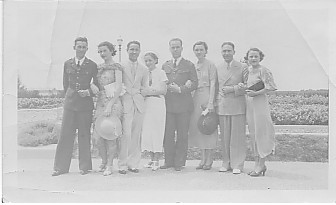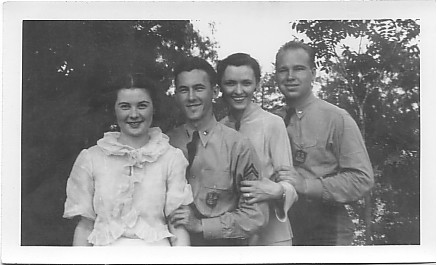 ?, Genie Runyon, ?, ?, Whitley, Evelyn, ?, ?

Genie Runyon, ?, Evelyn, Whitley

Per Bill Woodard:  Genie Marie Runyon married Bill Raef, who died in the early '80s.  She then married James Thornton (see guest list above.)